What Our Customers Are Saying About Our Workshops:
Joanne and Chris; Our group was very pleased with their urns created in your workshop. Your expertise, creativity and customer service was extraordinary. The selection of accessories to use in our urns was amazing. Thanks again and we will see you next year for sure. I enclosed a picture of my urn because I absolutely love it and wanted to share.
---
Spring is a very busy time around here! We're taking a break from teaching workshops right now but....we'll be back!
If you'd like to stay "in the loop" and be notified of upcoming workshops, please sign up for our email.
$50.85
Bring the colours of Fall to your front door!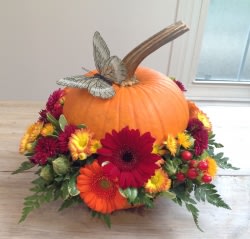 $45.20
A unique Fall centrepiece that is sure to impress everyone this Thanksgiving!
Country Basket Garden Centre... one-stop shopping for Niagara gardeners.
Whatever you need, whether it's seeds, plants or information, our team of gardening experts is here for you!