What Our Customers Are Saying About Our Workshops:
Thank you, had a great time!
---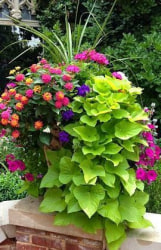 $45.20
Want to get a jump start on your Summer Urns and planters?
$56.50
It's time! Time to learn how to make a European Hand Tied Bouquet!
$39.55
Spring is coming... let's welcome it with an urn full of colourful spring bulbs, pansies and branches!
Country Basket Garden Centre... one-stop shopping for Niagara gardeners.
Whatever you need, whether it's seeds, plants or information, our team of gardening experts is here for you!