What Our Customers Are Saying About Our Workshops:
---
$67.80
Macrame and plants? I think it's the perfect combination!
$56.50
Join us in this workshop as we plant our very own Succulent Terrariums.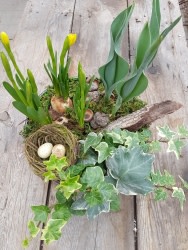 $39.55
After completing this workshop it will seem like Spring is just around the corner. Flowering bulbs in a reusable planter may be just what you need to cure the winter blues.
Country Basket Garden Centre... one-stop shopping for Niagara gardeners.
Whatever you need, whether it's seeds, plants or information, our team of gardening experts is here for you!